Home
Stanford Pirates Camp

June 16-20, 2014

Stanford Pirates Camp 2014 is currently full.
Pirates are encouraged to enroll in our camp waitlist as several spots are likely to become available.
Beginning Fencing Camps will open for registration soon.
Please check back for more details.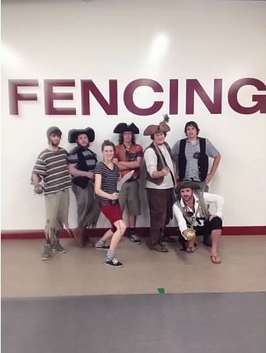 About Camp

Pirates Camp is an immersive pirate experience. At Pirates Camp we focus primarily on role playing. We spend the week training the young sprogs in the way of piracy. Each day pirates follow complex treasure hunts through the Stanford Campus and find long lost treasure chests. In addition to role playing and treasure hunting pirates will learn fencing from accomplished athletes. Through the course of the day pirates can be found playing pirate games, singing sea shanties or telling tales of the high sea. Our Counselors shed their landlubber covers stories and don "Captain Names" during the week. Our fantastic crew of captains will bring their unique skill set to create an incredible week of camp.