Home
Stanford Pirates Camp
Stanford Pirates Camp will be on hiatus for summer 2015.
Regrettably, we will not be offering Pirates Camp this year.
We will be updating the site with information regarding future programs as it becomes available to us.
Thank You for your continued interest in our camps.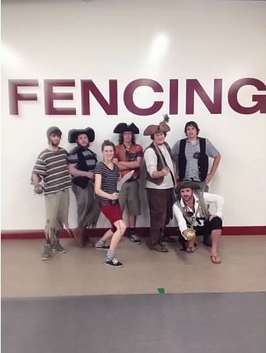 About Camp

Pirates Camp is an immersive pirate experience. At Pirates Camp we focus primarily on role playing. We spend the week training the young sprogs in the way of piracy. Each day pirates follow complex treasure hunts through the Stanford Campus and find long lost treasure chests. In addition to role playing and treasure hunting pirates will learn fencing from accomplished athletes. Through the course of the day pirates can be found playing pirate games, singing sea shanties or telling tales of the high sea. Our Counselors shed their landlubber covers stories and don "Captain Names" during the week. Our fantastic crew of captains will bring their unique skill set to create an incredible week of camp.